Vendor: HP
Exam Code: HP2-K24
Exam Name: Selling HP Storage
QUESTION 1
During installation, how is the HP X5000 G2 Network Storage System able to go from Power-On to file serving in less than an hour?
A.    The system software is preconfigured.
B.    The on-board management is based on CommandView.
C.    The internal storage is based on SAN for fast access.
D.    The X5000 is based on HP ProLiant servers.
Answer: A
QUESTION 2
What are key business drivers for Server Virtualization? (Select three.)
A.    CAPEX savings
B.    compliance
C.    expansion
D.    OPEX savings
E.    disaster recovery protection
F.    market share
Answer: ADE
QUESTION 3
The HP X5000 comes in a 3U rack-mount chassis which includes two ProLiant server blades and a pull-out drawer that holds up to how many disk drives?
A.    32 SAS disk drives
B.    16 SAS Midline or Enterprise disk drives
C.    16 Fibre Channel drives
D.    16 Solid State drives
Answer: B
QUESTION 4
Which statement helps reinforce the importance of the P4000 in a virtual environment?
A.    Eliminating redundant data over time can result in only one instance of the data required.
B.    Fibre Channel is very reliable and well suited to virtualized server environments.
C.    The storage infrastructure needs to be as highly available as the virtual machines themselves.
D.    The solution needs to use the absolute minimum bandwidth to replicate customer data.
Answer: C
QUESTION 5
Once an HP E5000 system has been shipped to a customer's site, how long does it take to get it
ready for transferring mailboxes from the old system?
A.    a few minutes
B.    a few hours
C.    a few days
D.    a few weeks
Answer: B
QUESTION 6
Which business sector has 70% of Exchange 2010 customers?
A.    large enterprises
B.    SMBs
C.    the government and public sector
D.    communications and media
Answer: B
QUESTION 7
Your customer has an existing Exchange 2007 implementation with x86 servers and direct attached storage. Users are complaining about unreliable service and limitations on mailbox size.
They have limited IT resources. What do you recommend as the server and storage platform for Exchange 2010 to quickly and cost-effectively address these issues?
A.    ProLiant servers plus HP D2000 storage
B.    ProLiant servers plus shared HP P4000 SAN storage in a virtualized environment
C.    ProLiant servers plus dedicated HP P4000 SAN storage
D.    HP E5000 Messaging System
Answer: D
QUESTION 8
Drag and Drop question
Drag and drop the boxes to match the HP services with their descriptions.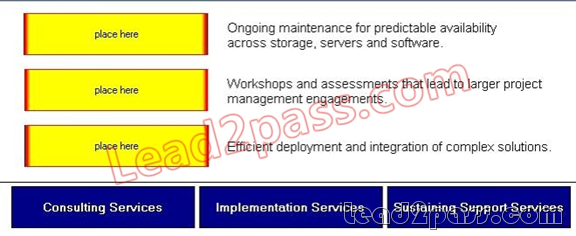 Answer: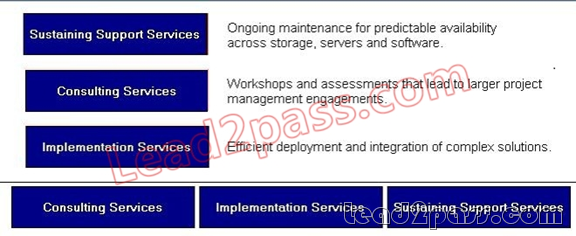 QUESTION 9
Drag and Drop question
Drag and drop the boxes to match each HP capability with its corresponding customer need.


Answer:

If you want to pass HP HP2-K24 successfully, donot missing to read latest lead2pass HP HP2-K24 practice exams.
If you can master all lead2pass questions you will able to pass 100% guaranteed.